Rose en Hiver
While searching for an image of a perfect pink rose, I found myself mesmerized by the beauty of these ice roses. The above crystaline pink rose was dusted by first frost. Photographer, Raphael Goetter caught this suspended moment in early morning light before the heat of the sun melted away the delicate ice layer.
A spectacular beauty!
Photo Credit - Somerslea
As I continued my image search, more ice roses appeared in my browser and I thought, "why not?" What better time to post a study of ice roses...in the deep hot days of summer when we all need a cool-down.
Rose Petal Ice Cream
Photo Credit - Quintana Roo
CC BY-NC-SA 2.0
Delicato rime.


Photo Credit - sramses177
Rose Shape Amuse
Photo Credit - Spushnik
CC BY-NC-SA 2.0
Beauty's Last Breath
Photo Credit -AndreaTX
Rose Room at the Ice Hotel, Sweden

Photo Credit - Findfado
CC BY-ND 2.0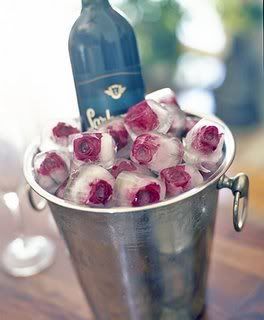 Pinks on ice.


Photo Credit - T Chays